---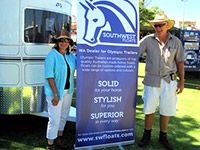 About Us
Southwest Floats was started by Lisa and Mike, to bring top quality floats to WA. Both Lisa and Mike are passionate about horses, having many years experience riding, breeding, competing and working in the horse industry.
Customer service is a top priority and we're prepared to go the extra mile to ensure that your float meets your needs. As such please feel free to contact us and ask any questions about our floats and prices.
Come for a drive, we are open 7 days a week :) We have several floats available now to suit all size and shaped horses and budgets. We can help arrange finance and trade ins are welcome!
We have plans to display floats in the metro area, but meanwhile we are located just south of Harvey WA.
---
Contact Details
Phone: Lisa - 0432 844 782
Email: info@swfloats.com
Locations: Harvey, WA 6220
All floats come with free delivery to Perth Metro area or within 100km of Harvey.
---
Exciting News!
We are expanding our float range and soon you will be able to compare our range of floats in the one location, Olympic, Cris, Brumby and soon Imperial floats!!
Update: We have received our first Imperial Horse Floats shipment and have lots of models available. Get in early to order yours now!